School Restart Information
SCHOOL WILL REOPEN FROM MONDAY 24th AUGUST FOR P2 - P7

Nursery and P1 – separate information has been provided (Monday 17th August)
As per Department of Education Guidance, social distancing between pupils in school will be encouraged where possible, while acknowledging that in some circumstances this may not be practical. Children will be taught in half class 'protective bubbles' for the first week. They will have minimal contact with other classes and their breaks and lunches will be 'staggered'. The playground will be zoned for play times so that no two classes will be able to mix.
Start and dismissal times will be 'staggered' and there is a one way system installed round the school.
Parents are asked to wear face coverings and adhere strictly to the 2m rule at drop off and pick up times, especially at the school gates and on the playground.
Start and Dismissal Times, Routes and Pickup points can be viewed in the panel to the right.
All children from P3-P7 will be greeted by an adult at our school gates and must make their own way to classrooms. This will reduce footfall around the school as per Departmental Guidance. P1 and P2 parents can walk their child to their classroom door (parents cannot enter the classroom) for the first few weeks, until the children are settled. For routes to classrooms, please view maps to the right. P1LM, P2MJ, P5, P6 and P7D will queue from the Nursery gate outside the school grounds then proceed up the driveway (which will be cordoned off and supervised by staff). These classes go past P5RM mobile and proceed to the outside door of their classroom. P1CM, P2D, P3RB and P3C will enter from the main school gates up the right hand side of the school steps, in through the foyer and down to their classroom. P1CM and P2D parents to leave children at classroom door, then proceed along our one way system to the outside exit at the P1 classrooms. Any P1 or P2 parents who have to come through the foyer to drop children off must wear a mask. P7E to enter via the Nursery gate at the front of the school, walk up the right hand Nursery path, past the Nursery, down the steps to the outside door of Mrs Eadie's classroom (not past the UICT suite and not through the door into the work area). The two P4 classes will enter from the main school gates, go up the right hand steps and into their classrooms by the outside doors. Nursery parents to make their way through the Nursery gate at our main entrance, veer right up the Nursery path, you will be greeted by Nursery staff at their entrance then follow the one way system past the P7 classroom UICT suite and out the Nursery gate. Please adhere to social distancing at the gate as you leave. On the first few mornings staff members will be dotted everywhere to direct everyone.
For start times, all children in a given family can be dropped off at the earliest time listed. There may be a short wait for siblings at pick up times. P3-P7 will be dismissed from the front of the school at staggered times. P1 and 2 will be dismissed from the infant playground. P1 and 2 parents to walk up the cordoned off driveway at to journey to the infant playground. Collect your child then walk round the front of the school by walking past the outside of the P1 classrooms. We ask that parents strictly adhere to start and dismissal times to avoid bottlenecks and strictly adhere to social distancing guidelines at the gates and on the infant playground. Crowding should not happen if start and dismissal times are staggered.
Children will be encouraged to regularly wash their hands and socially distance (we will try our best to do this in the most child-friendly manner, but we cannot guarantee that children within a 'bubble' won't brush past each other or come close to one another at some stage in the school day!) Staff also intend to treat a child if they are hurt and console them if they are upset. Please contact Mr Fegan if you need to discuss this.
The School Day
From Tuesday 1st September onwards:
From Tuesday 1st September, all children will be back to school full time. (Nursery and P1 operate different hours each September – please refer to separate correspondence)
P2 will be in school until 1400 every day
P3 will be in school until 1400 on Mon., Wed. and Fri. and until 1500 on Tues. and Thurs.
P4-7 will be in school until 1500 every day.
Start and Dismissal Times, Routes and Pickup points can be viewed in the panel to the right.
School Facilities
Not all components of the School Day will be immediately available. Anything not supported at time of school reopening is under review with the intention of reintroducing as soon as possible. This list will be updated as dates become firmed up.
School Bus

Operational from 1st September
Breakfast Club
temporarily suspended
Break Club
temporarily suspended
School Milk
temporarily suspended
School Meals

Hot meals operational from 7th September
After School Clubs
(teacher led)
temporarily suspended
After School Clubs
(external e.g Galaxy)
temporarily suspended
Music Tuition
temporarily suspended
After School Child Care

Paddington Lodge operational from 28th August
Transport
The new school bus driver is called Peter Hawkins. As of return on 2nd November increased measures are in place. We are now asking that any child who travels on the bus must wear a face covering. The Transport Service at EA have informed me that if there is space on the bus, children should be encouraged to distance and where possible they should sit beside siblings. The bus will leave at 1400 and 1500 in the afternoons regardless of staggered finishing times. As for the morning bus, the bus will do one run and all children travelling by bus will arrive at 0850.
Those who usually avail of the school bus should have received an e-mail asking if they intend to use it. If you have not received this e-mail please contact Transport Services at the Education Authority. If you wish to apply for the school bus, please visit the EA website for application details. As per Departmental Guidance, parents are encouraged to transport their children to school themselves and only use school bus if absolutely necessary.
Some Guidelines
Parking
As there may be a long queue of children and parents from our main gates, please be vigilant in our turning circle. I strongly encourage the use of the chapel carpark for parking and walking your child to the school gates. It takes 2 minutes to walk from the chapel car park to the front gates of the school. For new Nursery and P1 parents, you can access the chapel carpark from the main Downpatrick Road. The gate will be open at the top of the carpark which brings you to the top of Old Grand Jury Road – across the street from our school. Please continue to be mindful of driveways and double yellow lines if parking outside residents' homes.
Equipment brought to school
At this point we are asking that your child should bring a washable pencil case that will stay in school. Teachers created lists of items required in the pencil case and this list was attached to your child's report. P2 -P7 to bring a washable lever arch file. A small, washable school bag is now permitted in school.
Additionally, if each child could bring a packet and / or small box of tissues for under their desk/drawer. We are appealing for each family to kindly donate a bottle of (hand pump) soap or sanitiser so that our school is well stocked. If you want your child to have their own hand sanitiser that is ok as long as it's small and can fit under their desk/drawer.
PPE
Extremely limited PPE was given by EA, despite extensive requests. If you can donate any of the following items through business contacts or any other means we would be extremely grateful:
Plastic Aprons
Boxes of gloves
'Hand Pump' soap
Hand sanitiser
If you are able to donate any of these, please hand them to Mrs Dobson in the office. Any amount of these items (large or small) will be gratefully received. Many thanks to those parents who have already done so, it is greatly appreciated.
Uniform
Children can wear polo shirts until further notice.
Boys – School jumper, school polo shirt, grey trousers, black shoes, grey socks.
Girls - School jumper, school polo shirt, grey skirt, black shoes, grey socks.
This is a temporary change to uniform and when school 'normalises' full school uniform – shirts, ties etc. will be reinstated.
P.E.kit
Children are entitled to 2 hours P.E. per week. As the term progresses we will timetable our pitch for P.E. and on the days that your child in P3,4,5,6,7 has P.E. We will temporarily allow them to wear our school PE kit into school.
P3,4,5,6,7 PE kit :
School polo shirt
School hoodie
School tracksuit bottoms
Trainers
P1 and P2 can wear black or navy tracksuit bottoms, trainers, school polo shirt and school jumper on their P.E. days.
You will be informed in the first couple of weeks which days your child will have PE, but until then they can wear school uniform.
Mobile Phones
In the past children in Upper Key Stage 2 have been allowed to bring mobile phones to school if they need them. If your child falls into this category please send their phone in a sandwich bag and they will be given to the teacher in the morning then stored in a shared box. We are asking that children in Upper Key Stage 2 only carry mobile phones to school if they absolutely have to.
SEN Provision
For the first couple of weeks, children on our SEN register will be given support by their class teacher while we get our Learning Support operational at an appropriate and safe level for both pupils and staff. Withdrawal support does take children out of their 'bubble' and if parents give us permission to remove their child from their 'bubble' for learning support, Mrs Ewart is happy to facilitate. We will contact parents soon to seek written consent if their child qualifies for withdrawal support.
Behaviour policy
As per Department of Education Restart guidance dated 13th August we have been instructed to change our Behaviour and Positive Discipline policy with Covid-19 related amendments. The guidance states that a child should be sanctioned and/or excluded if they deliberately refuse to comply with social distancing or if they deliberately spit on another child or staff member.
Risk Assessment
If your child is clinically vulnerable or clinically extremely vulnerable or lives with someone vulnerable or clinically extremely vulnerable and you feel your child needs an individual risk assessment, please seek advice from your GP and contact me via e-mail. Written advice from your GP may be required to help with our risk assessment.
e-mail Addresses
| | |
| --- | --- |
| Principal | Secretary |
| rfegan499@c2kni.net | rdobson288@c2kni.net |
| | |
| Teaching Staff | |
| jcockroft665@c2kni.net | jlouden257@c2kni.net |
| hjordan886@c2kni.net | jmagwood464@c2kni.net |
| alogan297@c2kni.net | jkells234@c2kni.net |
| dcraig349@c2kni.net | mmcilrath738@c2kni.net |
| jmcbriar319@c2kni.net | lross980@c2kni.net |
| adickson586@c2kni.net | kkennedy959@c2kni.net |
| tmcclements166@c2kni.net | hmartin452@c2kni.net |
| jewart737@c2kni.net | jeadie317@c2kni.net |
| kreid530@c2kni.net | gdonnelly160@c2kni.net |
| tcampbell667@c2kni.net | |
Hygiene / Cleaning / Infection Control
Measures that will be in place from to 'Day One' in August 2020.
Children should not be sent to school if they are unwell or have a temperature.
If your child is absent, it is essential that you contact the office to tell us why.
lease take your child's temperature before they leave the house in the mornings. If they have a temperature, they must not attend school.
Staff temperatures will be taken on arrival.
Children will be reminded how to wash hands using the 20 seconds rule.
Children will wash hands on entering school, before and after break and lunch, after play, after reading in groups and any other time the teacher deems necessary.
Children will be reminded how to sneeze either into their elbow or into a tissue, thus following the 'catch it, bin it, kill it' They will be encouraged not to touch their face (we will try!)
Children will practise social distancing in fun, child-friendly and practical ways.
Hand sanitiser will be at every entrance/exit in the school.
Classrooms will be laid out so that children face forward, sit beside one other person but the pair will be spaced as far apart as we can from the next pair. (Foundation stage may be seated slightly differently owing to age and practicalities).
Children can bring a small tube of hand sanitiser if their parent is happy.
Soap will be provided at every sink.
Each class will operate the 'bubble' method where the children will have minimal contact with other classes.
Play times will be staggered and each class (bubble) will have a zoned area to play in.
Start / Dismissal times will be staggered
School corridors will have a one-way system
Extra cleaning will be done throughout the day.
Staff may wear visors/ masks if they want to.
As per Departmental guidance, children do not need PPE, but rather they should have clean clothes on daily (where possible)
Rooms will be ventilated.
Parents should wear face masks if they need to be inside school buildings.
Department for Education Guidance for the New School Day
The Department for Education has provided guidance for Re-Opening Schools and the New School Day
A full copy of the document and future updates can be found on the Department of Education website. A link to the website is contained in the panel on the right.
A key section of this document provides guidance on What to do if someone develops symptoms of COVID-19. This can be found in the document below.
School Layout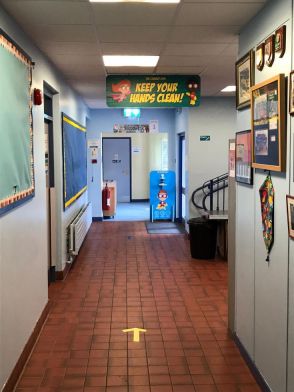 Start and Dismissal Times
CLASS
Start
Dismissal
P1LM
08:50
11:50
P1CM
09:10
12:10
P2DE
08:50
13:50
P2MJ
09:10
14:10
P3RB
08:55
13:55/
14:55
P3C
09:10
14:10/
15:10
P4L
09:10
15:10
P4M
08:50
14:50
P5KR
09:00
15:00
P5RM
09:10
15:10
P6M
08:50
14:50
P6K
09:10
15:10
P7E
08:50
14:50
P7D
09:00
15:00
Note: P3RB and P3C dismissal will be the 14:00 staggered slots on Mon, Wed, Fri and the 15:00 staggered slots on Tues and Thurs. Nursery and P1 guidance will be sent separately.
Start and Dismissal Routes
Click on image for full screen view.
Academy Primary School 194 Listooder Road Saintfield Ballynahinch County Down BT24 7JA 028 9751 0407